Previously, we discussed how to apply the traditional sales funnel to the recruitment of new curlers. In that article, we briefly touched on how we can diversify our curling sales pipeline rather than relying solely on referrals. 
While referrals will always be your best source for new curlers, getting more organic traffic can supplement our curling pipeline and doesn't require an advertising budget. 
Why your curling club needs more organic traffic
Behind, referrals, the second-highest converting lead source in the traditional sales funnel is organic traffic leads. These are leads who found your website through search results instead of paid advertising. 
Yes, the two best-converting lead categories require no advertising budget.
However, there are some similarities between growing your organic traffic leads and growing your referrals. You need to put the same effort into your website as you would into cultivating a positive culture that encourages referrals. 
The good news is you don't need to be an expert to get started. The bad news is growing your organic traffic is a long-term play. You likely won't start seeing significant results for 6-12 months.
What kind of new organic traffic are we looking for?
Let's be clear about the type of organic traffic we are trying to bring it. We are looking to capture search traffic that isn't directly related to curling. Odds are if you have a website and a Facebook page (and you're the only curling club around) you are already going to be the top 4 or 5 results for "curling in (your city)."
However, if you're a curling organization outside of Canada, curling is probably only getting significant search traffic once every four years during the Olympics. What we are looking to do is supplement that Olympic bump with content that is relevant between winter games.
You want to position curling as an answer for what people are searching for on the internet. What's great about curling is it has so many things to offer that would be valuable to a wide-range of people. 
The problem is, especially in non-traditional markets, curling isn't going to be the first (or 100th!) thing someone thinks of when they are searching for activities.
How do we bring in new organic traffic?
We're looking to create content, such as blog posts and individual webpages, that tell people why they should think about curling as an answer to the questions they are asking in their search bar. To do this, we have to create content that is relevant to these questions and focus on specific keywords.
A great place to get ideas is a playlist on Curling Canada's YouTube channel called "Why Curling Rocks!" This playlist is a few years old, but the content there is full of perfect examples. The videos are short and go in-depth on some of the things that we love about curling: play at any age, affordability, meet people & make friends, competition, fun and exercise. 
These aren't just things that make curling great, they're also topics people are going to be searching for that aren't directly related to curling. They're the keywords we need to focus on when creating our content.
(Also, I believe these are things people are going to be looking for in a post-COVID-19 world.)
Taking the concepts from these videos and localizing them is a great place to start, but you should think about what other benefits of curling might be relevant to people in your city. What other advantages does curling have to offer the people of your city?
What do we do with this newly created content?
So where does this content go? Depending on your webhost, you might have the option to add a blog to your website. If you use WordPress, you probably already have the ability to do this.
A blog is the easiest place to put content like this on your current website. Some curling clubs, like Wine Country CC and Brainerd Lakes CC, have blogs that they use to keep their members updated with the latest news. This is a natural place to put this new content.
If you don't have a blog, an option would be to create individual pages and link them under an "About Curling" tab on your website's navigation.
I would suggest making separate pages for each topic rather than just throwing them all onto one page. This will help with your search engine optimization (SEO) and help search engines realize your content is relevant to people searching for these topics.
These pages don't have to be long. Just keep in mind that your content should be answering a question. Your titles should be along the lines of "Why the sport of curling is better exercise than you think" or "Why curling in (City) is a great family activity."
The call to action is just as important as the content
Finally, there is one last step that is often forgotten. You need to have a clear call to action (CTA) on these new blog posts or webpages. The best content in the world is useless without it.
The purpose of your content is to drive people to action and you need to make their next step as clear as possible and as easy as possible.
Let's say you've created a blog post about how curling is a great way for people new to your city to meet new people and make friends. Then, after someone new to town finds your content through a search, they are motivated to come try curling. You need to have a button or form on that page that lets them act right then and there rather than searching elsewhere on your website for contact information.
A good example comes from Kalamzoo Curling Club in Michigan. They have a "Sign Up Now" button on their membership info page: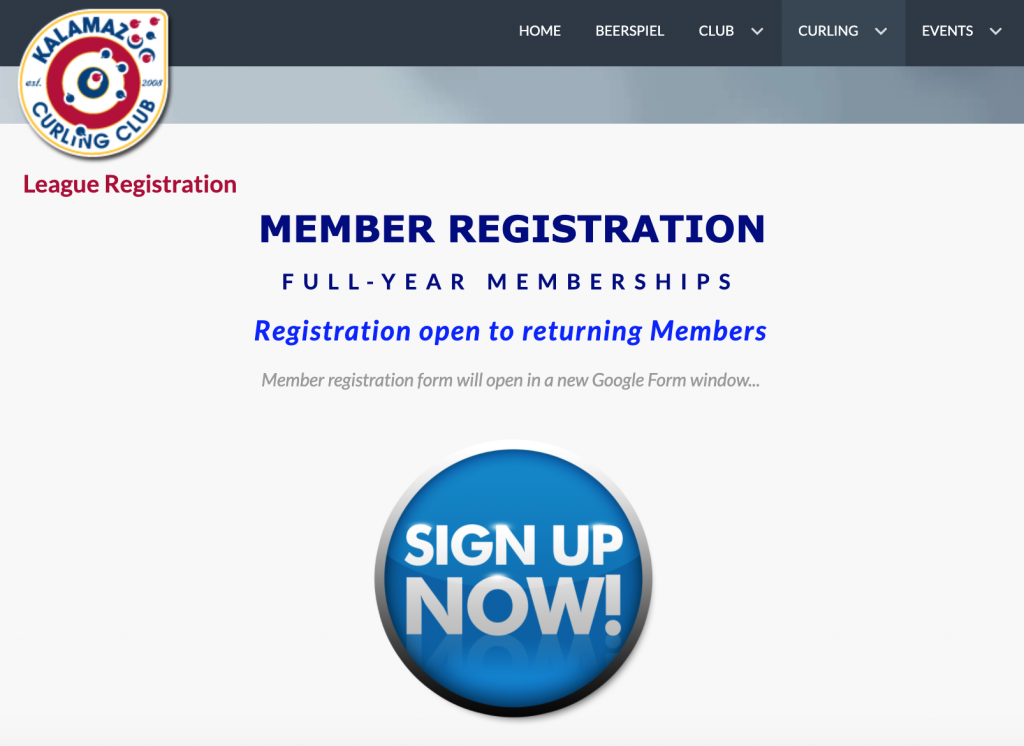 Chaska Curling Center in Minnesota takes it a step further. They have a sign up button for their newsletter that appears at the bottom of every page on their website:

My suggestion would be to embed a sign-up form on the page that says something like "Sign Up to Try Curling" to capture at the very least their name and email address (a phone number is a bonus) and opt them into receiving your newsletter. Then you can reach out to them about your next Learn to Curl.
What would be even better would be to make it possible for them to sign-up for your next Learn to Curl and pay their registration right there on that page. As I have said before, your members are your best resource and someone in your organization probably knows how to do this and could help set this up.
Better content today will help your curling sales funnel tomorrow
Creating better content for your website isn't suddenly going to get you 100 newsletter sign-ups overnight. However, over time it might help bring in additional curlers who may not have heard of curling before and don't know anyone who's currently in your organization.
Focusing on improving your organic search results is worth the effort because it's cheap, it doesn't have to be complicated and the leads you get from it into your curling sales funnel are more likely to convert into new curlers.
---
Ryan is a marketing professional and a member of Curling Club of Virginia. He spent 12 years in marketing and media relations in sports and live events, including time with a Major League Baseball club. Has your curling club developed content to bring in new curlers? Tell us at rocksacrossthepond@gmail.com.
How healthy is the sales funnel for your curling club?
5 easy email marketing tips to help grow your curling club
Email Rocks Across the Pond
Like us on Facebook
Follow us on Twitter